June 2022
Wednesday, 01 June 2022 07:45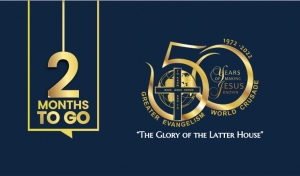 It was June 1975 at Okwale, late at night, Numbere and his team were surrounded by an angry mob who were determined to kill them. But God showed up in an unexpected manner.

In the thick of the village mobbing and confusion, suddenly, they saw shining lights from the headlamps of an approaching vehicle, dispelling the darkness. The car drove straight into the arena and stopped, and out jumped three men, one of them a uniformed police officer!

50 years on, God has always shown up and still shows up on our behalf.

2 months to go!