April 2023
Monday, 03 April 2023 16:55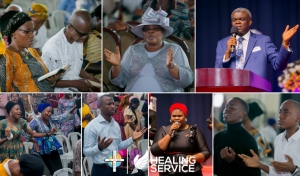 The 2023 March Healing Service of Greater Evangelism World Crusade was characterized with the flow of God's glory and power in His presence, as we praised God in songs and with a joyful heart.
We received testimonies of God's awesomeness from Pastor. Dr. Mesua N. Wilson, the District Administrator of Rivers District 4. He testified of how God healed him and restored his life. He ate at a meeting he attended and after that, had pains in his stomach, it became severe, he was admitted at a hospital. Treatments were administered, but at a point, he became unconscious. Prayers were made and the Lord restored his life and healed him.
We received God's undiluted word from Pastor Isaac Olori, the International Director of Greater Evangelism World Crusade. He spoke on the topic The Power of Faith (Mark 11:22-24)
He explained that no man can truly enlarge without faith, stating that faith is one of the measures of our spiritual capacity, a determinant of our ability to receive from God and to do things. It is a measure or condition for victory.
Pastor Olori emphasized that if you take away faith, a Christian cannot survive (Romans 1:17)
With reference also to Ephesians 6:11, he explained that faith is the armor to quench the fiery darts of the wicked. When we engage in faith, we cause the power of God to take effect. He said there could be other things we could have faith in, but Jesus admonishes us to have faith in God. Having faith in any other thing or even a man of God without reverence to God, would cause us to be limited.
What aspect of God should we have faith in?
His personality- He is our father.
His word (Isaiah 55:11)
His power
His purpose or will (Romans 8:28)
Pastor Olori used Hebrews 11:3 to explain that having a thorough understanding of how God works is a product of faith. When we walk by faith, the word of God fashions our world. Every word of God is a word of faith (Genesis 1:2-3)
Placing emphasis on Mark 11:23, he stated that;.
Anybody can walk by faith.
The issue of faith is not about quantity but quality just like the mustard seed (Matthew 17:20; Luke 17:6)
Faith must be engaged for enlargement.
Doubt cripples a man and should be dealt with (James 1:6-8)
Using the story of the three Hebrews boys in Daniel 3:16-18; 11:32 and that of the crippled man at Lystra in Acts 14:8-10, Pastor Olori also pointed out that faith tells of God's ability, and we should always endeavor to speak the word of faith (Hebrews 4:2)
In conclusion, he enjoined us to live by faith in God and that we can only live by faith when we have been crucified with Christ (Galatians 2:20)