May 2023
Monday, 29 May 2023 07:00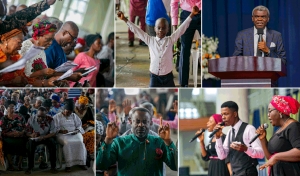 The 2023 May Central Healing service was marked with God's abiding presence and overflowing aura of love. Praise and thanksgiving from the hearts of grateful people flowed.
We received a testimony of God's power to save. Pastor Love Francis Eremasi testified how God delivered her daughter from the hands of kidnappers. Her daughter who returned to Nigeria from Ghana for the New Year celebration was kidnapped and was to be killed by ritualists for her body parts. However, she was rejected by the native doctor at the shrine who screamed that she had a mark on her. With God's intervention, she was released by one of the kidnappers. Glory to God.
God's undisputed truth was brought to us by Pastor. Isaac Olori, International Director, Greater Evangelism World Crusade. He spoke on the theme, Understanding the Depth of God's Love (Ephesians 3:17-20).
In line with the theme of the ministry for the year "Enlargement", Pastor Olori stated that love, is the grace that ushers enlargement.
From our text, Paul, desired that we understood how vast God's love it in dimensions (length, breadth, height), and the Psalmist, went further in Psalms 103:11-12 with detailed measurements – God's love is as high as the heavens are from the earth. As at today, no one knows those dimensions.
Emphasizing on John 3:16, we find that;
God's love has no discrimination. Anyone can fit in. His love cuts across tribe, race, culture, class and even gender. It can accommodate everyone.
The measure of love is determined by what you give up. God gave up his son.
God placed so much value on us, that he gave His Son, Jesus Christ for us.
For the sake of God's love, we would not perish. If we perish, it would be our fault.
We also find that God's love gives certainty for eternal life (John 10:28)
Reference also placed on 1 John 3:1, 1 Corinthians 2:9-10, we also find that God has lavished so much love on us, most importantly, making us his children, despite what we have been before. We see in Hebrews 11:31, that despite Rahab being a harlot, she obtained love from God and was even one of the ancestors of Jesus Christ. We should also note that there is a relationship between our depth in God's love and how much of Christ has taken possession of us.
Pastor Isaac Olori also referred to Romans 8:31-39. He expounded that God's love does not mean we would live problem free lives, but in all, we are more than conquerors which is more than just obtaining victory.
We also see in 2 Corinthians 5:13-14, that our lives are to be physical expressions of God's love.
God's love makes us not to live as ordinary men. To men, it would be that we are out of our mind.
His love constrains us, compels, and takes full hold of us.
In conclusion, he stressed that when God's love takes over us, we have no option than to totally surrender to Him. His love guarantees everlasting life. May we understand the depths of God's love for us.