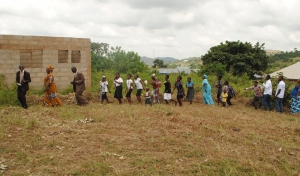 Greater Evangelism World Crusade Ageva Church, Okene L.G.A, Kogi State celebrated her third year anniversary/launching of building projects on Sunday 23rd October, 2016. The anniversary was tagged "Arise and Build" (Nehemiah 2:18)
The activities for the day started with the baptism of 4 members, which is the second set of baptism being done in Kogi state (the first was done on the 27th of March 2016). The service held on the permanent site of the church for the first time with about 30 people in attendance. The program was also graced by the chairman of the occasion, Pst. (Dr/Mrs) Halimat Salihu (the General Manager of TOA FM) and a few other guests.
The Senior Pastor, Pst. Tammy D. Amapakabo, gave a brief charge on the theme, taking his text from Nehemiah 2:18. He started by saying that to build means to create or develop something. He went further to say that building is a sign of development. Nehemiah was relatively comfortable in the king's palace as a cup bearer (who is like a personal assistant to the president) in a strange land. However, when one of his kinsmen came to visit him, he showed his concern for his people by asking about their welfare. As believers we should also show concern for the salvation and welfare of other and not be self centered.
The pastor concluded with the scripture; "And they that shall be of thee shall build the old waste places: thou shalt raise up the foundations of many generations; and thou shalt be called, the repairer of the breach, the restorer of paths to dwell in." (Isaiah 58:12)
After this, people were given the opportunity to give towards the building of the church. Virtually everyone made commitments including children. The day ended with a victory dance round the land.  It was indeed a remarkable day for the church.
If you would like to support this project, kindly contact: 08064045867