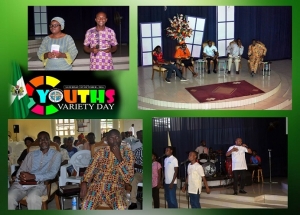 The National youth fellowship of GEWC had a variety day on the 1st of October, 2016 to commemorate Nigeria's Independence Day.
The program began with praise and worship and then the National anthem and our Ministry's anthem were sung.The Youth National President, Evang. Okwuchukwu Okpala gave an opening charge. In this charge, he encouraged the youths to believe the Lord for our Nation. After his charge, another round of powerful praise session began.
Thereafter, it was an enlightening talk show session on how youths can maximize their talents, become entrepreneurs and develop their careers. The youths learnt that how they put their talents to work is important. They also came to understand that a career is said to be something done over time which brings joy/pleasure to you. If you are struggling in a particular area, it is alright to quit regardless of the time spent.
The speakers for the talk show were: Bro Mee-ebari Ndee-ue, Evang Eunice Opara and Pst. C.S. Ejimadu. This session was anchored by the National President himself. Evang Mike Ojie, the Youth minister was also present in this program.  The day ended with a quiz session between Bayelsa and Rivers states. Questions ranging from the Bible, the Ministry and Nigeria were asked. Rivers State emerged as the winner of the quiz with just a single point.
It was indeed a great day mixed with fun, education and spiritual packages; and of course there was enough popcorn for everyone.
Long live the National Youth Fellowship, More grace!