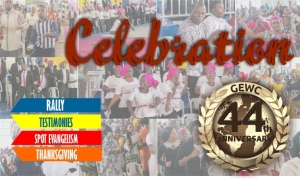 The 44th anniversary of Greater Evangelism World Crusade took place from 5th September to 11th at every branch of the ministry. It was a time of celebration and thanksgiving to God for 44 years He has kept the Ministry. The focus for this year was soul winning, targeted at raising the faces of people who are bowed down. These outreaches started from the beginning of September.
Rainbow Town Church crusaded Abak in Akwa Ibom, Woji Church opened a Church at Woji, Olanada at Rumourosi Psychiatric road Rumougbo PHC, to mention but a few. Worthy of note, is the Church at Eliogbo/Eliozu which was opened by Rivers State West Women Fellowship.
For Ogbum-nu-abali branch, it was time to 'shop' with the opening of what they called, "JESUS Supermarket" where everyone was invited to shop for free, offering much needed items to those who were in need.