Notice
: Trying to get property of non-object in
/home/gephubor/public_html/plugins/content/jdsocialshare/jdsocialshare.php
on line
331
Notice
: Trying to get property of non-object in
/home/gephubor/public_html/plugins/content/jdsocialshare/jdsocialshare.php
on line
338
Notice
: Trying to get property of non-object in
/home/gephubor/public_html/plugins/content/jdsocialshare/jdsocialshare.php
on line
340
Notice
: Trying to get property of non-object in
/home/gephubor/public_html/plugins/content/jdsocialshare/jdsocialshare.php
on line
340
Items filtered by date: Tuesday, 18 January 2022
Tuesday, 18 January 2022 12:29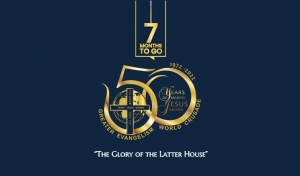 "Greater Evangelism Crusade! Greater Evangelism Crusade!! Greater Evangelism Crusade!!!"
It was a shout that rent the air, piercing through the darkness, and announcing good news to all.
It was a shout that announced the arrival of the rescue boat that would raise the faces of people to God.
It is a shout that still rings, declaring salvation, deliverance, healing and liberation to the whole world!
Sound the alarm, GREATER EVANGELISM WORLD CRUSADE will be 50 years.
7 months to go!