The advance team left for Asa on Wednesday 2nd March, 2016, to prepare for the arrival of the other brethren and the crusade.It was a crusade that lasted for three days, starting from Thursday 3rd March, 2016 to Sunday 6th March, 2016 and ended with a communion service. 
Base Church went full force for the work of the Lord as the number of attendees grew in number as each day went by. The night crusades recorded an average of 40 members from Base church while on Sunday, the last day, over one hundred members made themselves available to establish the Church in Asa. Prior to the crusade, they also built a church and parsonage on 2 plots of land, one of which was donated by an indigene, Madam Nwankwo.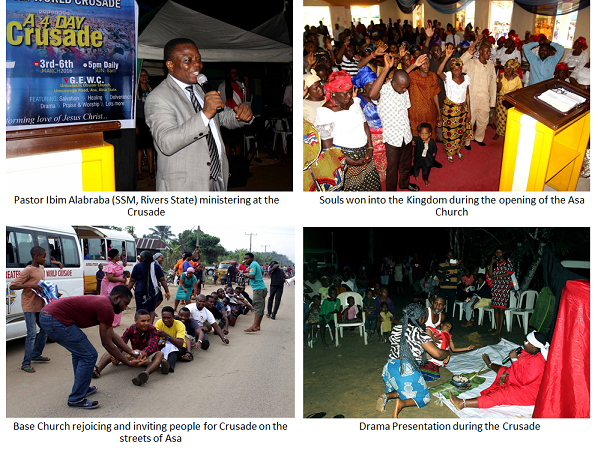 The mornings of the crusade were used for morning calls after which there was rally or evangelism usually at 11.00 a.m. The team also gave Medical services, clothes, and other welfare packages to the indigenes of Asa. Ministers were also available to give counsel to those who gave their lives to Christ or had other issues.

Despite all the challenges like distance and communication issues, God quickened the hearts of those coming from the neighbouring communities that they were determined to make it for the crusade. By God's divine mercy, the Church in Asa was established and started on the Sunday of the crusade, 6th March, 2016. At the end of the crusade, one hundred and twenty-nine adult souls (129) and fifty-two (52) child evangel souls were won for the Lord. 
These souls were present at the June Healing Service at our World Headquarters, Rukpoku, Port Harcourt.