---
Greater Evangelism World Crusade
Greater Evangelism World Crusade is an Evangelical Ministry set up by God in 1972 through Apostle Geoffrey Dabibi Numbere (of blessed Memory). It has it's headquarters in Port Harcourt, Rivers State Nigeria. On Saturday, 9th of September 1972, in the course of an all-night prayer meeting, in Port Harcourt with some young believers, the Ministry of Greater Evangelism Crusade was born. Apostle Numbere heard the name; "GREATER EVANGELISM CRUSADE" repeated a number of times by the Lord in his ears. Some days later the Lord gave the motto, "TO KNOW JESUS AND TO MAKE JESUS KNOWN" to Apostle Numbere. And precisely on the 6th of December 1972, he was on his knees praying when the Lord gave him the emblem of the Ministry – the globe (the world) with the cross spanning it and dropping on Africa with Nigeria in the center.

Since then the Ministry has grown, reaching communities, villages, States and Countries for Christ.
---
Apostle Geoffrey Dabibi Numbere (Founding Father)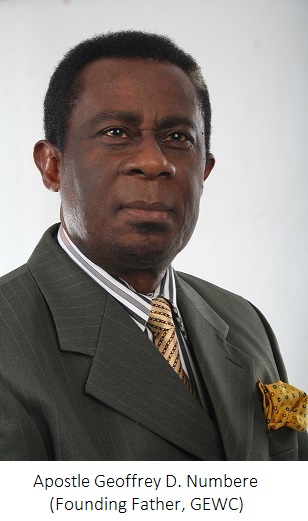 Apostle Geoffrey Dabibi Numbere was the founder of Greater Evangelism World Crusade. Called of God and commissioned an Apostle by Him, he had for over 45 years taken the Gospel to many countries of Africa, USA and the far East. He pioneered indigenous Pentecostal evangelism in the North and in the old Rivers State (now Rivers and Bayelsa States of Nigeria). Amidst much opposition and persecution, many hardships and trials, he took the gospel to the downtrodden, under-privileged, forgotten, sometimes very remote dangerous communities of the numerous islands ad villages of Rivers and Bayelsa States.
Apostle Geoffrey D. Numbere was a second year Geology student in the University of Ife, Ibadan Campus when he became miraculously born again on the 11th of May 1969 after a sermon by Rev. Mike Oye the then Travelling Secretary of Scripture Union, who had been invited to preach in the chapel that Sunday through the instrumentality of the President of the campus' Christian Union, Philip Olurinola, (then Ogunrinola).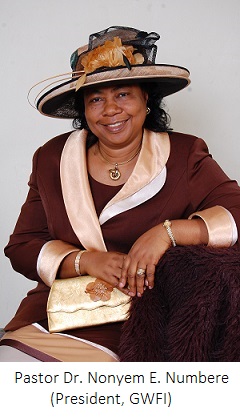 On Tuesday, 3rd March 1970, God showed him a vision of perishing souls. His heart went out to those souls he saw in the vision. He kept on seeing those crowds over and over again. He thought of the millions and millions of people who did not know the Lord Jesus Christ. Every ambition he had in this life paled and died before this vision. He abandoned all, including his education for the Lord's work.
He was also a Bible teacher and has affected many lives through his books, newspaper articles and his weekly television and radio programmes "Caught Up". He was the pioneer Chairman of Christian Association of Nigeria (CAN) South-South Zone.
Apostle Geoffrey Numbere got married in 1980 to Pastor Dr. Nonyem Eziamaka Numbere who is the President, Greater Evangelism Women Fellowship International and they are blessed with five children and five grandchildren. Pastor Nonyem Numbere is a medical doctor, a Bible teacher, Conference Speaker, author and also the overseer of the Children, Teenagers, Students and the Youth wings of the Ministry.
---
Pastor Isaac Olori (International Director, GEWC)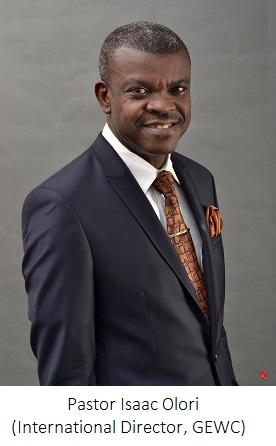 On 15th October 2014, Apostle Geoffrey Numbere was called home to be with the Lord. Before this, he had named his successor as Pastor Isaac Olori and on December 14th, 2014, Pastor Isaac Olori, succeeded Apostle Numbere as the International Director of Greater Evangelism World Crusade.
Pastor Isaac Olori's encounter with Christ started in 1977 when he came in contact with Greater Evangelism World Crusade then as a Secondary School student, but he completely surrendered his life to Christ in 1982 while in his second year in the University. He obtained his Bachelors and Masters degrees in Agricultural Engineering from the Rivers State University of Science and Technology, Port Harcourt.
While in school he served among others as the Chairman of the Students' Executive management committee of the University chapel (Chapel of Redemption). He also served as a Corper traveling Secretary with the Nigeria Fellowship of Evangelical Students (NIFES) during his National Youth Service (NYSC) and Associate Traveling Secretary with NIFES for several years.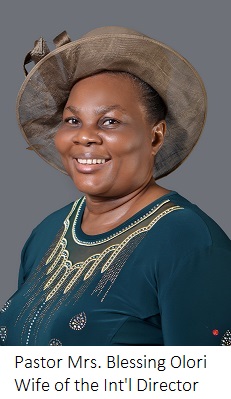 Pastor Olori was ordained a Pastor in 1996 and a Teacher in 2009 by our father, Apostle G.D. Numbere of blessed memory.  He had served in different capacities in the Ministry including; Sunday School Superintendent, Secretary of Sunday School Editorial Board, Secretary of Kumran Bible College Board, Assistant Pastor, Senior Pastor, Zonal Minister, Secretary of the Rivers State Council of Ministers (GEWC), Registrar of Caught-Up School of Ministry, etc.
Pastor Isaac Olori was a lecturer with the Rivers State College of Arts and Science, Port Harcourt for over 20 years where he rose to the rank of Chief Lecturer.  He served as Head of Department and Assistant Director among other positions then as a lecturer.
He is married to Pastor Mrs. Blessing Olori (Vice President, Greater Evangelism Women Fellowship International) and they are blessed with four children.