The 2016 May Healing Service held on 22nd May 2016 at the Greater Evangelism World Crusade, World Headquarters, Rukpoku, Port Harcourt.
---
We were not done thanking God for His great works in the last Healing Service, only to be marvelled by greater things this Service. Just to recount a few: in the May Healing Service Sis. Destiny was healed of a chronic ulcer that had lasted for two years; God also delivered Sis. Leebari and her kids from stray bullets on their way from school. The armed robbers shot several bullets that smashed their car, but none touched them. God's divine provision was also evident in Sis Kelechi's testimony, as she had vowed towards the building project despite having no available finances, but God in HIS usual manner provided for her -  more than three times the amount she vowed.
The sermon this time  was "Persistent Faith", with Luke 18:1-8 as reference text. God's word by His Servant, Pastor Isaac Olori, was clear and concise. One of the striking points during this sermon was that God searches for persistent faith in His children, therefore, if we would survive in our faith we should be persistent. He stressed that prayer must be accompanied by persistent faith. 
Addressing "Die by Fire" prayers, he said, as Christians, our enemy is the Devil (1 Peter 5:8) and not our fellow human beings. Even though we understand that human beings can be agents of the devil, it is wrong doctrine to pray that any human being should die because they are only agents. Their death would not stop the work of the devil, who would only look for another agent to inhabit.
The widow, from our reference text, was faced with a difficult situation - her adversaries on one hand and the unkind judge on the other, but she did not deter. She chose to handle her situation by developing persistent faith, backed up with consistent prayer. She also handled her situation by developing a bold heart, refusing to be intimidated either by the nature of the judge nor her other adversaries. Finally, she was steadfast (1 Peter 5:9).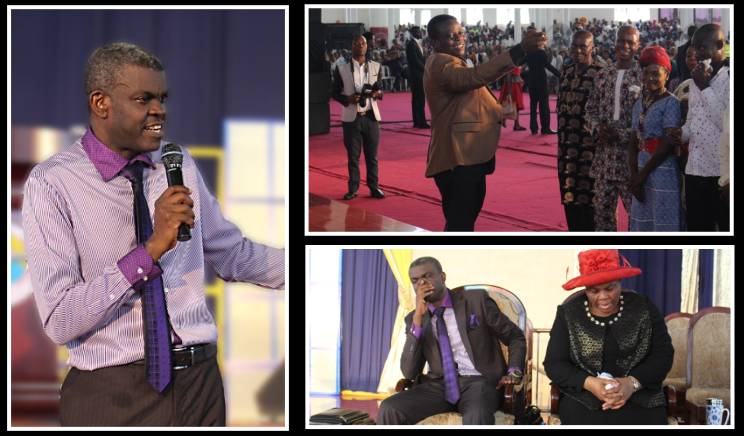 The sermon also brought to the fore the strategy of the enemy to use several challenges like bitterness/malice/anger, wrong doctrine via false churches and physical, to get us weary concerning the things of God. We must bear in mind that as Christians, our life is a battle and we must not take prayer, bible study, discipleship and other spiritual activities casually, lest we fall prey to the devil. It is pertinent that we know that the enemy tries to put fear in our heart in order to  intimidate us, but we must be bold and sound in our mind, believing God's word, to be able to confront him. The force of persistent faith and importunate prayer will stop every adamant situation and it takes a man who is steadfast in his faith to resist the devil.
We must consciously put away every form of fear and worry, because God who is our judge is kind, loving, forgiving, longsuffering and will avenge our case even though HE bears long with us.However, to qualify for HIS intervention in your situation you must be HIS own elect (Ephesians 1:4, 1 Peter 2:10) and cry to Him day and night being persistent in following Him.