They have been great friends to Apostle G. D. Numbere (of blessed memory) and Pastor Dr. Nonyem Numbere as well as the Ministry of Greater Evangelism World Crusade for over 40 years. The Lord brought this relationship about through Pastor Lawrence (Larry) Bereiweriso. In the 1970's the latter had gone to the United States for further studies at the Maritime Academy, Buzzards Bay, Massachusetts. Pastor Pierce was then the Pastor of The New Testament (TNT) Church, Cedarville, Massachusetts. Pastor Larry and Pastor Pierce struck a friendship and he told Pastor Pierce about Greater Evangelism, his Director, Apostle Numbere (then Evangelist) and their work in the old Rivers State (now Rivers and Bayelsa States) in the eastern delta region of Nigeria.  Pastor Larry had spoken so much about this that when in 1975 Apostle Numbere came to the United States, Pastor Pierce extended an invitation to him to minister in TNT. From that time onwards, the two became an inseparable duo. This relationship spilled over to their respective spouses and families.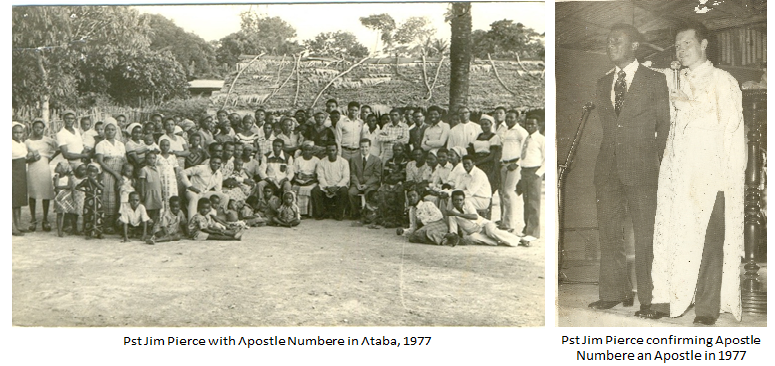 Pastor Pierce and his wife became a great support and pillar and an integral part of the work of Greater Evangelism World Crusade (GEWC). It was through Pastor James Pierce, the Lord confirmed Apostle Numbere an Apostle in 1977. His visit to Ataba in 1977, almost cost him his life, as he had to be smuggled out of the village to avoid being lynched. They are also members of the Board of Trustees of GEWC.
On a personal level, their bond was so strong that Apostle Numbere named his last son, James Numbere, after his friend, Pastor James Pierce.
By the grace of God, this wonderful couple celebrated their 50th Wedding Anniversary. Married on 18th June 1966, they have been blessed with 5 children, 17 grandchildren and 3 great grandchildren.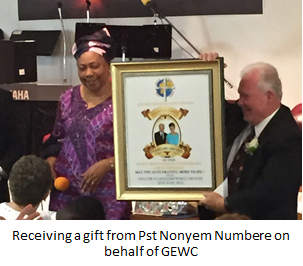 Little wonder, a delegation led by Pastor Nonyem Numbere, travelled the distance to rejoice with them. Other delegates were, Pastor Festus Ediae, Vice Chairman GEWC Board of Trustees, Elder Ibiere Bereiweriso (Larry's wife),and Pastor James Numbere (Pastor James Pierce's namesake).
The Ministry of Greater Evangelism World Crusade rejoices with Pastor Jim and Diana Pierce and we pray that God continues to bless your union and grant you many more years.
Happy 50th Wedding Anniversary.