Notice
: Trying to get property of non-object in
/home/gephubor/public_html/plugins/content/jdsocialshare/jdsocialshare.php
on line
331
Notice
: Trying to get property of non-object in
/home/gephubor/public_html/plugins/content/jdsocialshare/jdsocialshare.php
on line
338
Notice
: Trying to get property of non-object in
/home/gephubor/public_html/plugins/content/jdsocialshare/jdsocialshare.php
on line
340
Notice
: Trying to get property of non-object in
/home/gephubor/public_html/plugins/content/jdsocialshare/jdsocialshare.php
on line
340
Items filtered by date: October 2018
Monday, 15 October 2018 07:14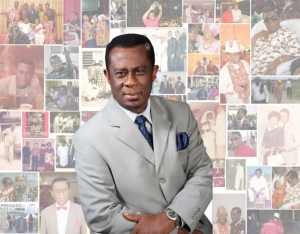 THE MAN - APOSTLE G. D. NUMBERE
Daddy was an apostle of Jesus Christ indeed. He was a great teacher and orator; a very charismatic and dynamic preacher. His starting phrase was "In Greater Evangelism, we do not teach people how to make money; we teach people how to make heaven. For it profiteth no man anything if he shall gain the whole world and lose his soul" and his prayers would end with "In Jesus.. Name. Amen and Amen". He was a very graphic teacher, using illustrations and live examples to explain to his listeners such that everyone could understand. On some occasions, he brought a car into the church to teach faith, welding equipment to teach holiness, a fire and chickens to teach Easter amongst others. Sermons such as the Eagle Christian, Butterfly Christian, Chameleon effect amongst others are classic teachings of his. The spiritual insight he had of the Scriptures and depth of wisdom with which he handled disputes and cases are unparalleled.
Daddy was a very handsome man who took very good care of his appearance. He trimmed his hair by himself, washed his clothes by himself and always had a comb handy to comb his hair. As he grew older a white patch grew by the side which was his trademark till his departure. As his friend Dr. Smart Ebinne put it "he was elegant even in sickness".
Daddy was a great singer and dancer. So melodious was his voice that he sang on minors and would light up the singing the moment he began to sing. He composed songs a lot, some of them are, "Jesus wasinariye", "Our God is a very present help in trouble" including the great chorus, "Praise the Lord, O sing o, sing oh, praise the Lord". He was the one who introduced clapping, dancing and using of instruments to praise God in churches. Dancing like David, he was a true worshipper of God.
Daddy was a man with eagle eyes. He would pick out things from afar or identify details people missed. He was a great painter who loved to paint so usually would pick and mix the colors of paint for many Greater Evangelism Churches and his house; and would be fully involved in the painting himself. Before he passed on, he made sure to pick the colour of paint for the Temple.
Daddy was never an arm chair general, sending people to work while he sat back. No! He always led the way, getting involved fully in the work of God both spiritually and otherwise. It was a usual sight to see him pick up littered papers, arrange chairs or things in our World Headquarters Temple and surroundings.
Daddy cared for people both spiritually and financially. He trained several people and would offer help without reservations as though they were his biological children, for example, he went personally to sort out admission or educational issues for other people's children just as he would his own. He was the glue that bound many families. His love for the Numbere family was so much; he cared for everyone especially his mother Nneta's children, grandchildren and stepbrothers and stepsisters alike.
As he received, so he freely gave.  During every GEWC Ministers' Conference, he would give out some of his clothes and shoes to those who did not mind that he had used them. It was always a rush to get the Apostle's shoes and clothes, free of charge! Interestingly, his clothes and shoes seemed to shrink or expand depending on who got them such that most times no amendments were required.
Daddy was a man who invested in the lives of people and risked his life severally for many, some of who were ungrateful, not even mentioning the role he had played in their lives, others turned around to hurt him, while others abandoned him. In some cases, he the offended, had to go after the offenders, offering them forgiveness and his hand of fellowship and they were still not remorseful. He used to say his heart had been broken into so many pieces that he had no more heart to be broken. Yet, he would be the first one to jump out to help these same ones if they were ever in need or trouble again.
Daddy loved good food although he was not good at cooking. A favorite story of his, was his "cooking skills", how he would fill the pot with water when steaming his meat. So when he wanted to threaten the home, he would say, he would go to market and cook.
Daddy never ever made use of police escorts all his life. He was fearless, simple, and humble! It was only recently for health reasons, he reluctantly agreed to fly Business Class on his trips. Why? He would think of a thousand and one things, the monetary difference could do in the work of God.
He never forgot the Lord's parting words to him in the vision, "I have chosen you but be humble" and always made it a prayer point.