The great commission is the core of this department, and it is not a mandate to be treated as trivial. A careful consideration of this truth is what gave rise to the "Missions Boot camp". Missions Boot camp is a training organized for mission team members ad mission-minded people in general. It serves the purpose of educating, enhancing old skills and equipping with new skills, people who fall into the aforementioned categories (a category all Christians should belong to). It is a ground for reminding Christians as well as encouraging them to carry on with the mandate left us by our Savior.
The May 2016 boot camp, held at Opolo Church 1, GEWC on Saturday, 21st May 2016. The host was the State Missions coordinator Pst Ogilizibe Sumbiri and in attendance was the Superintendent State Minister, Evangelist Cletus Okpu as well as the various State Ministers for Bayelsa State. The program had three sessions. The first was taken by Tch Honour Kanaam on the topic "Preparing for missions and soul winning" emphasizing the truth that Missions is too important and crucial a matter to be addressed with casualty. It is a cardinal issue in our faith and as such requires adequate planning, strategizing and preparation. 
The second section, handled by Bro Atisi Nathan Atteng dealt with the issue of mobilizing men to do the work. It is one thing to have a vision and it is yet another thing to cause others to see the same vision as you do. This section made it plain how to mobilize people for successful mission and evangelism outreaches.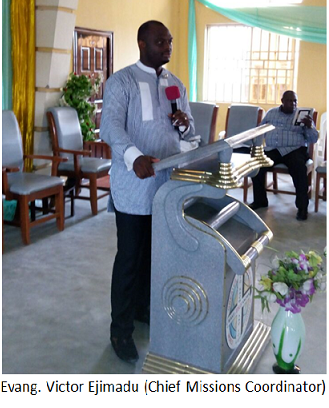 The third and final section was handled by Evang. Victor Ejimadu, Chief Missions Coordinator. He spoke on "Partnership in the Mission Enterprise". This section brought to light the truth that missions and evangelism is business, a business in which we are granted the privilege of partnering with God. An unusual partnership because God has the biggest stake and the little which we contribute to this business still comes from Him. This does not deter Him from giving us dividends. It is wisdom therefore to partake in the business of soul-winning.
It was a wonderful time in God's presence as people were, of no doubt blessed. The team came with some materials that aid evangelism such as books and tracts. The Superintendent State Minister, Evangelist Cletus Okpu encouraged attendees, especially Ministers, to sign up for the Caught Up School of Ministry (CUSOM) as the team promised that arrangements would be made to reach those in Bayelsa State.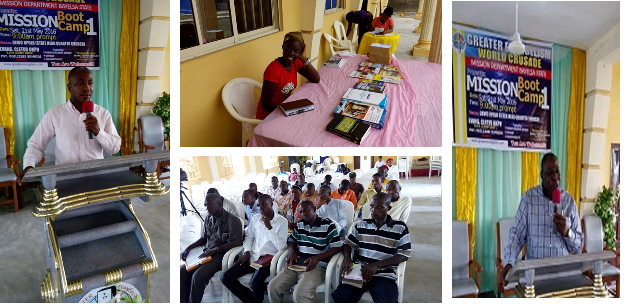 On a final note, we re-echo that a statement by Evangelist Cletus Okpu: "A lot of Christians think that being born again is enough for them to get out on the streets and preach. Of course it is the basic requirement, and we most definitely cannot undermine the possibilities when the Holy Spirit is involved. However, we must deliberately and consciously train to be better. Imagine the possibilities when the presence of the Holy Spirit meets training? It is our Father's business and we must be about it". 
Next Missions event holds Saturday, 9th July 2016 at Bori, Rivers State.