The senior pastor and National Minister of GEWC Liberia Evangelist Idriss J. Wright-Samura, and the entire congregation were filled with joy at the arrival of Madam President as she participated fully in the service. She arrived in grand style with a complete entourage consisting of top government officials and security personnel. Although previous arrangements had been made for her to visit the church, they did not materialize. This was unmerited favor! Praise God!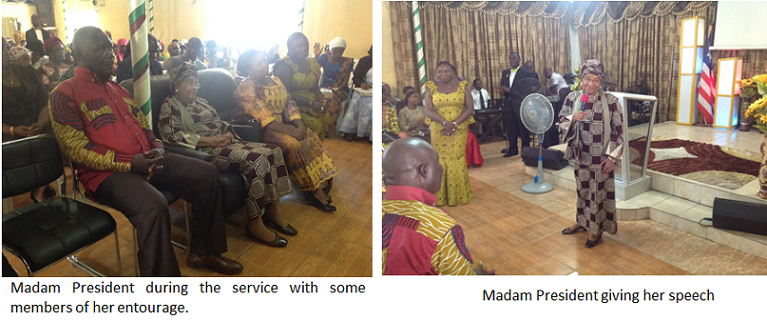 It was not a regular practice for Madam President to visit Pentecostal churches, Nigerian churches in particular due to a history of extortion and manipulation by Nigerian pastors in the country, but to the glory of God, Greater Evangelism World Crusade, Liberia has had an undented reputation since its establishment in 2nd May, 2008 which was one reason she was delighted to be present at the service. In her speech, she expressed profound joy to be part of the service as she came to know about the church through its television programs. She commended the church for the work God is doing through them by transforming lives and the nation as a whole. Basically, she was there to worship with them from start to finish.
This event has attracted national attention, thereby bringing the church out to more limelight. With a heart of gratitude to God, we pray this will draw more souls to the kingdom and bring an overflow to the already fast growing church.