Pastor Isaac V. Olori, International Director, GEWC visited the Rivers State College of Arts and Science (RIVCAS) on 24th June 2016.
---
It was like a trip down memory lane as the College was his last place of employment before his appointment as the International Director of Greater Evangelism World Crusade. The School held a 3-day Corporate Prayer and Fasting meeting tagged: God of All Possibilities with Pastor Isaac Olori as the Guest Speaker. The latter appreciated the Rector and Management of the college for the invitation. He expressed his excitement about what God is doing and affirmed that the School remains his constituency.
The College of Arts and Science had been operating as a Polytechnic but had not yet been given it's proper status officially, hence the call for prayers. Speaking on the topic: God of all Possibilities (Matthew 16:19), Pastor Isaac Olori described prayer as one of the greatest resources a person can find on earth. In his words, "Prayer moves the spiritual and the physical. As a man learns how to pray and pray aright, he comes to realize that prayer is a tool to make possibilities happen." 
He explained further the story of Saul in 1 Samuel 9. Referring to the College, he said, "It seems your name was lost, you have been operating as a polytechnic but not answering the name. I want to declare to you today that, that missing ass is found. The story of this College from this day onward will change. The justice of prayer that we will release in this meeting will not only give you the name you are looking for, but will put the desire of the Government upon this place. Those infrastructural developments and so many other things you are looking for you will begin to see."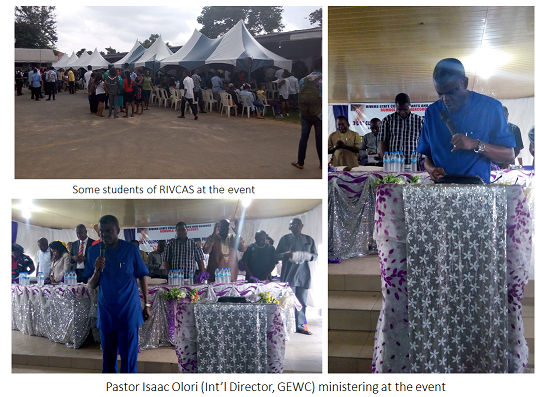 Referring to Esther, who fasted and prayed to achieve deliverance for Israel and also Elijah, who prayed and  controlled rain in Israel (James 5:16 - 18), he iterated that when you give yourself truly to prayers, you will receive answers, stressing that there is a spiritual "dynamite" that is released when a righteous man prays because the effectual fervent prayer of a righteous man avails much.
Pastor Isaac Olori admonished everyone that their lives should change as well because the purpose of the solemn assembly was also for repentance. Praying for them he said, "I pray that God will not only change this College to a Polytechnic but you too will be lifted. By the reason of the prayers that have been made here these three days, those principalities, powers and dominions that are contending will bow in the Name of Jesus Christ and as I join my faith with yours, the impossible will become possible."
Update:
God answered these prayers as Rivers State College of Arts and Science (RIVCAS) was officially declared a Polytechnic on Monday, 4 July 2016.  It is now known as The Port Harcourt Polytechnic (PortPoly or Port Harcourt Poly).