This month in history, a sinner was miraculously saved by grace and it set in motion, the mustard seed that would grow into a great commission called Greater Evangelism World Crusade.
---
 Once I was blind, but now I can see
Once I was bound, but now I am free
That's how I know there's a Savior for me
Oh, such a Savior!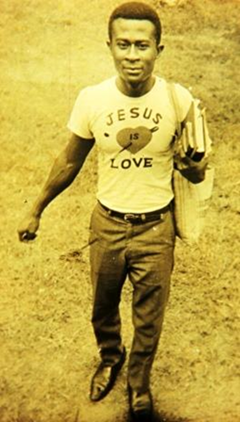 The above song, one of Apostle Geoffrey Dabibi Numbere's (Founding Father, GEWC) favorites, is a summary of what God did in his life on Sunday 11th May 1969. That unforgettable Sunday, 11th May, 1969 was like any other Sunday. Geoffrey Dabibi Numbere, a second year Geology student in the University of Ife, Ibadan Campus, was like any other young student on Campus. He was completely and totally oblivious that God had His eye on him and that even the names he bore were like a stamp on him on his future. 
He became miraculously born again on the 11th of May 1969 after a sermon by Rev. Mike Oye the then Traveling Secretary of Scripture Union, who had been invited to preach in the chapel that Sunday through the instrumentality of the President of the campus' Christian Union, Philip Olurinola, (then Ogunrinola). 
Apostle G. D. Numbere, while on earth, never celebrated his natural birthday rather, he celebrated 11th of May which was the day he became born again. This year, he would have turned 47 years in the Lord, but the Lord chose to call him home on 15th October 2014.
We celebrate the power of God to save a man. We celebrate God's mercy and pardon that was multiplied to him and through him, thousands have been saved.
See more in Life and Times of Apostle Numbere (A Biography of Apostle Numbere)  
http://greaterevangelism.com/index.php/photo-video-gallery/video-messages/apostle-s-life-commentary